ASPIRANTS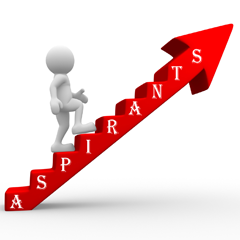 Every human being works hard to earn there living. Inorder to earn living they do a job. Job is an activity where there are two actors involved, who play an important role. One actor is employer and the other one is employee. Employer is in need of an employee to make his work done. Here comes the Middle level firms into picture. These firms will be acting as mediator to make an employee to be placed in a company where there is a requirement.
As part of placing an employee into a firm it needs a multilevel process to be executed, as part of this execution many teams of different roles are needed. For completing all this process manually it takes longer time. In current generation/world time has equal importance to a life, any mistake or delay in finishing a job will cost huge. Now it's required that the process is finished as fast as possible and make benifit for both employee and employer. Executing the process fastly and accurately can be done only by automating the process and make ease of communication.
Aspirants is the product which is the solution for above mentioned requirement. This application consists of following user groups.
1. Admin
2. System Admin
3. Recruiters
4. Sales
5. Job seekers
Application consists of all respective functionality as per there role. So each role is taken as a seperate module. There is an additional attraction in this application that is, chat tool. Every recruiter, admin, system admin and all employees with employers will be added to this chat tool, so that and employer can directly communicate with recruitement team and respectively recruitement team can reach employees as quickly as possible and schedule an interview to make an employee onboard. After placing an employee now the process of payroll starts. There is an "H.R" tab which takes over this job. Here this module consists of onboarding details, rate per hour/salary, payment details and many other required functionalities.
In conclusion we can say, in overall perspective this is a complete solution of recruitement and onboarding an employee into a company as fast as possible. This reduces the cost of execution and time of finishing the process.
This application is developed using following technologies:
1. Java
2. Spring
3. Jquery
4. Node JS
5. MySql DB
6. Shell scripts.